MAGE Con 2020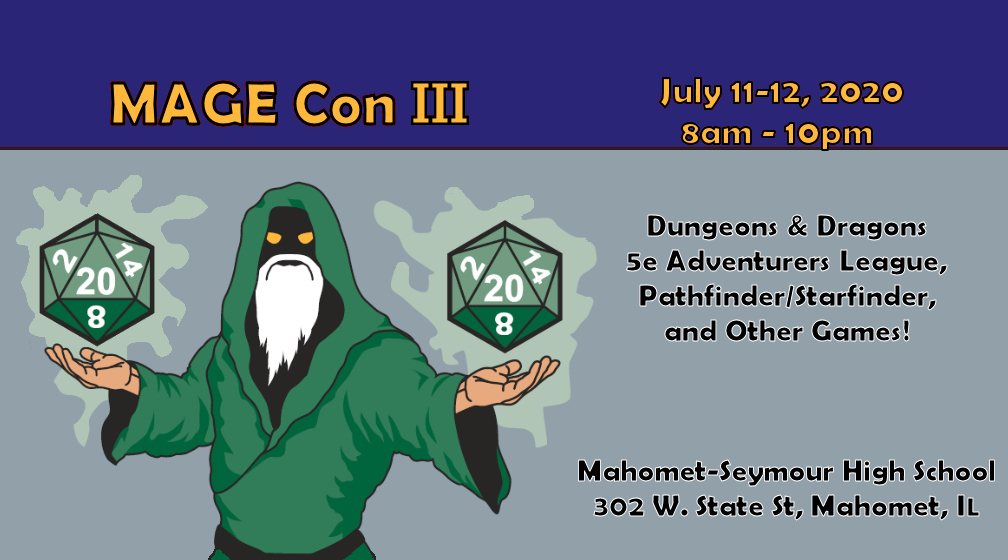 Welcome Gamers!
CORONAVIRUS UPDATE: We have delayed signups for MAGE Con games at the moment due to ongoing coronavirus concerns. MAGE Con staff are monitoring the situation here (central Illinois) to see what happens in the next couple of months. We'd like to still hold MAGE Con in person, as initially intended, but if it turns out that this will not be possible, we are planning to hold something online. Stay tuned here or on our Facebook pages for ongoing updates.
(Plans below are for in-person convention)
---
The MAGES (Mahomet Area Gaming EnthusiastS) have begun plans for our third annual MAGE Con! With sponsorship by the local Mahomet-Seymour High School D&D club, this year's convention will be held in the library at the high school, 302 W. State St, Mahomet, IL 61853, on Saturday and Sunday, July 11 - 12, 2020.
For general questions, feel free to email: archmage@magecon.org
---
As in the past, Dungeons and Dragons 5e Adventurers League play will be a large part of MAGE Con, but we had such a good time last year with our friends from the local Pathfinder & Starfinder Society Organized Play group, we'd love to have them back again in 2020. Interest has also been expressed in running Shadowrun and some other games, so we are hoping the 2020 event will be a critical success!
---
UPDATE: We have started the process of adding games to the registration site on Warhorn:

MAGE Con 3 Warhorn registration page

Game selections include:

Dungeons and Dragons 5th edition, Adventurers League tiers 1 through 4, including 5 CCC titles being run by the authors
Dungeons and Dragons 5th edition, Rappan Athuk, running continuously throughout MAGE Con; with 3D terrain and miniatures
Pathfinder/Starfinder (Paizo Organized Play)
Dungeon Crawl Classics
Dungeons and Dragons vs Rick and Morty Tabletop Roleplaying Game
HeroQuest, through the characters of The Order of the Stick
Shadowrun
Monster of the Week RPG
Terra Mystica
and hopefully a few more -- stay tuned!
---
---
Also feel free to join our Facebook group at: MAGE Con Group on Facebook
Or visit our Public Facebook Event page at: MAGE Con 3 Gaming Convention
Please be aware that all attendees must agree to the MAGE Con Code of Conduct.