MAGE Con 2019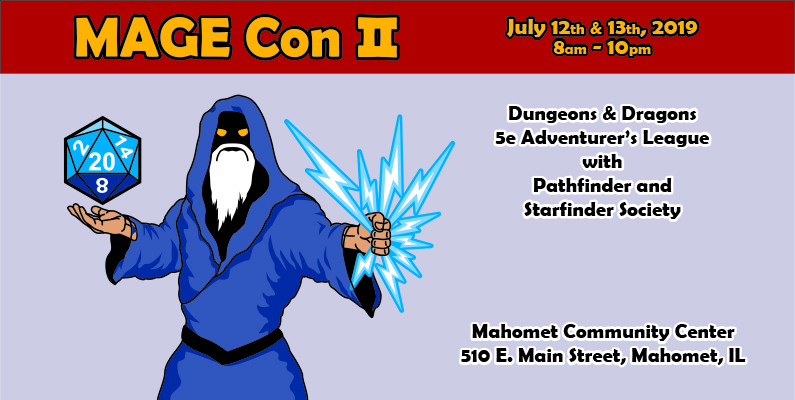 Welcome Gamers!
The MAGES (Mahomet Area Gaming EnthusiastS) invite you to join us for our second annual MAGE Con! We have expanded this year to 2 days , Friday and Saturday, July 12th and 13th, 2019. We hope you will help us keep the tradition going.
For general questions, feel free to email: archmage@magecon.org
---
While Dungeons and Dragons 5e Adventurers League play wlll be a large part of MAGE Con, this year we are excited to welcome our friends from the local Pathfinder & Starfinder Society Organized Play group. We hope that no matter which game system you prefer, you'll have a great time at this year's convention.
---
UPDATE: Game registration is open! Stay tuned here for future updates. Also, please be sure your characters are of the appropriate levels for the games.
---
Signups are done through Warhorn: MAGE Con 2019


Registration/Fees:  Registration fees will be:

$10 for 1-3 sessions (there are three 4-hour sessions per day), or

$15 for 4-6 sessions

These fees will help us cover the costs associated with the event. We hope to provide a fun and exciting 2-days for everyone. All participants will receive a patch, shown below. Also, we plan to offer light snacks throughout each day.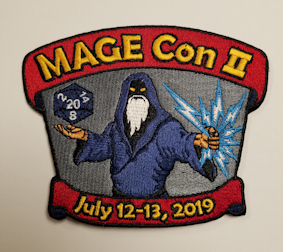 IMPORTANT REGISTRATION INFORMATION:
To assure we have equal opportunity for all interested parties, we request payment as soon as possible after registration, preferably through the Paypal link provided. You may also mail a check to:
Mark Webb
1707 Phillippe Dr.
Mahomet, IL 61853
If there are changes in your schedule that result in a different fee, like due to adding or removing sessions, email us separately (thok@magecon.org) to work out the details.
---
Our events will be running 8 AM until 10 PM Central Time Zone.
Location:
Mahomet Community Center, 510 E. Main Street, Mahomet, IL 61853
---
Also feel free to join our Facebook group at: MAGE Con Group on Facebook
Or visit our Public Facebook Event page at: MAGE Con 2 Gaming Convention
Please be aware that all attendees must agree to the MAGE Con Code of Conduct.